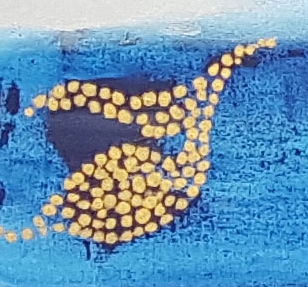 Temple energy paintings
I have always been interested in perceiving the energies around me. Ten years of experience living in a place with harsh energy has made me sensitive to enjoying welcoming and healing energies all the more. I experience highlights of supporting energies during ceremonies in Balinese temples or at special places in Bali.
Translating these healing energies into paintings allows me to experience the energy once again. And indeed, I always feel help from the energy surrounding me when creating paintings. It is a wonderful process until a painting is finished.
Now I would like to share my joy, motivation, love and take you with my paintings into the stillness, if you like.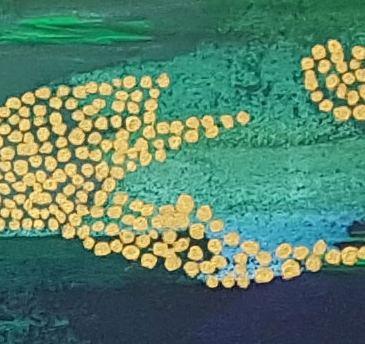 Painting from the heart
It took me a long time before I allowed myself to play with colours and shapes and to bring feelings to the canvas. For years I thought that painting was unimportant in the course of the world and after all, there are always many "more important things" to do. However, it has turned out that painting makes my entire life experience more colourful and in the end even the so "important" things become easy and fluent.
There are ways to get into flow, to paint easily without judging yourself.
It is possible to have the courage to just keep on painting on pictures, even if doubts come up or to keep on painting a picture that maybe already has a balance because something important is still missing.
My ways come partly from the spirituality of Bali, partly from self-observation and last but not least from a profound trust that I have discovered in myself.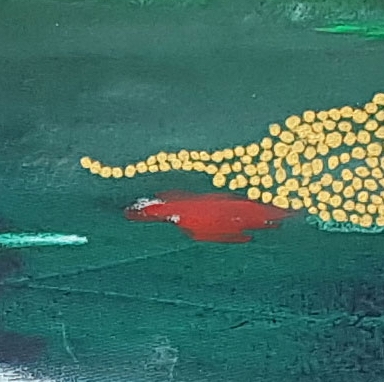 Meditation
Meditation is a tool that enables you to bring more calm into your life. By relaxing you can recognize more precisely what feelings you have in you at the moment. If you know this, it becomes possible (after meditation) to face the disturbing thoughts and feelings, maybe understand where they come from and find a new way of dealing with them.
Freedom is when you are aware of your thoughts and feelings, when you no longer experience yourself as a victim of the inner storms, but can decide, unimpressed by them, how you want to live in the here and now. And doing it.
The tool meditation under the guidance of my teacher Jero Mangku Budhi has completely changed my life. Even though the breakthrough comes very rarely after a week, the positive effects are profound. I would also like to share my experiences with meditation from time to time and inspire people to start doing it themselves. Meditation is free of charge and even for beginners it brings a little more peace into life.